Ladies Evening Dinner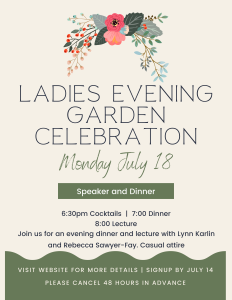 Ladies Evening "Garden Celebration"
SPEAKER: Lynn Karlin & Rebecca Sawyer-Fay
Ladies Presentation:
Two decades after the publication of Gardens Maine Style and Gardens Maine Style Act II, photographer Lynn Karlin and writer Rebecca Sawyer-Fay will take Megunticook members behind the scenes at some of Maine's most spectacular landscapes. What, exactly, were the pair looking for when they chose the dozens of sites that pack the pages of their books? How did they find the gardens in the first place, and what has become of them?
Over her four-decade career, photographer Lynn Karlin has focussed on fashion (at Women's
Wear Daily), interiors, and gardens. Her award-winning work has appeared in House Beautiful,
Gourmet, Coastal Living, and many other national and international magazines. Her books
include Maine Farm: A Year of Country Life, Gardens Maine Style, and Gardens Maine Style Act
II. She is now a fine art photographer whose portraits of nature's bounty can be seen at art
galleries in America and Europe. Lynn lives in Belfast.
Editor and writer Rebecca Sawyer-Fay served on the editorial staffs of House Beautiful,
Yachting, Country Living, and The New Yorker. She is the author of New Country Kitchens,
Living with Folk Art, Country Gardens, Gardens Maine Style, and Gardens Maine Style Act II.
Rebecca lives in Camden.
Guests welcome
HOST: Rebecca Sawyer-Fay
MENU:
Chilled vichyssoise
Grilled chicken over a bed of greens
Grilled potatoes with rosemary
Strawberry shortcake with whipped cream
$28 + tax per person
REGISTRATION HAS REACHED CAPACITY. BELOW IS A WAITLIST FORM IN CASE OF CANCELLATION
Recent Comments
No comments to show.