4:00-8:00PM Movie & Dinner
Movie: Philomena
Recipient of numerous awards and nominations, including the Academy Award for Best Picture in 2014, the movie Philomena tells a profoundly moving and at times, funny story of relationships, faith, and forgiveness. It focuses on the journey of an odd couple – Philomena, a kindhearted Irish nurse and Martin Sixsmith, a world-weary political journalist—as they search for the son taken away from Philomena fifty years before, when she was an unwed mother at one of Ireland's infamous Catholic-run Magdalene Laundries. A true story, Philomena brims with heart and humanity.
The seating limit capacity will be 38 total. When the 38 total has been reached, please call Jim or Pat Nelson if you need to cancel or want to be added to the waiting list
8/8 Movie Hosts: Suzanne Weaver and Steve James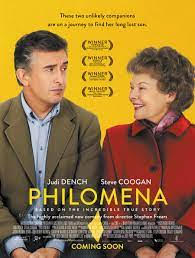 What's "MGC MOVIE NIGHT REALLY LIKE"?
It's like a book group (with food) but you don't have to read a book!
After the free movie you'll be part of a team at your table to break bread and answer questions posed by the moderators.
Try it…you'll like it!
Two new 75' LCD TV's and new sound equipment will improve both audio and video.
Dinner about 6:15 after the movie.  BYOB.
Menu:
1) Chicken Caesar Wrap, $13.50
2) Sriracha Lime Tofu Salad, $15.00 (tofu, red peppers, Napa cabbage,
Carrots, bean sprouts, scallions topped w/ sriracha lime vinaigrette)
3) Garden Cobb Salad, $15.00 – ( avocado, hard b egg, red onion, blue cheese,
Crisp bacon, Tom, toasted almonds, lettuce, vinaigrette dressing)
4)  Carnitas Burrito Bowl, $19.00 – org chicken carnitas, cheddar, jasmine rice,
blk beans, avocado, corn, cilantro, lime crema, jalapeños & homemade salsa)
5) Harvest Bowl, $19.00 – org chicken, sweet potatoes, apples, goat cheese, kale,
Jasmine rice, almonds, balsamic vinaigrette.
Click here to view submissions
REGISTRATION IS NOW FULL. BELOW IS A WAITLIST IN CASE OF CANCELLATION.
Recent Comments
No comments to show.