Twilight Sports & Dinner
TWILIGHT GOLF, TENNIS, PICKLEBALL, & DINNER 2022
MIXED GOLF SCRAMBLE @ 3:30 pm (arrive 3:15 pm to get ready)
MIXED TENNIS OR PICKLEBALL @ 4:00 pm
Byob
TWILIGHT DINNER @ 6:30 pm
Hosts Neall Johnson & Teresa FowlerTWILIGHT DINNER MENU:
Crab Cakes on a bed of Wild Greens
Aioli Sauce
Crusty Bread
Apple Pie
$35 + tax per person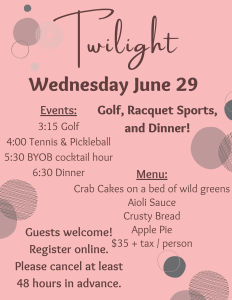 ***If you need to change or cancel your registration, REREGISTER FROM SCRATCH with updated information and a comment. Do not ADD ON to the original registration. REREGISTER COMPLETELY, even if it's with zeros.***
Recent Comments
No comments to show.