2:00 PM Flanagan Mixed Golf & Dinner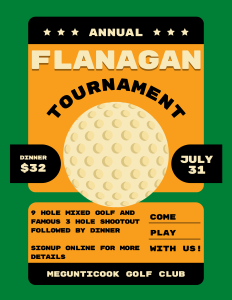 THE 2022 JIM FLANAGAN MIXED TEAM CHAMPIONSHIP TOURNAMENT AND THE FAMOUS FLANAGAN SHOOTOUT
THE FIELD WILL BE LIMITED TO 36 PLAYERS ON 18 TWO PERSON MIXED TEAMS SO GRAB A PARTNER AND JOIN THE PARTY!!
HOSTED BY JIM & PAT NELSON
2pm THE JIM FLANAGAN MIXED TEAM MGC CHAMPIONSHIP : 1 MALE AND 1 FEMALE MIXED TEAM. PLAY WILL BE MODIFIED ALTERNATE SHOT. HANDICAPS WILL BE APPLIED AND BOTH NET AND GROSS WINNERS WILL CELEBRATE!
4:30pm THE FAMOUS FLANAGAN SHOOTOUT: TWO FLIGHTS OF 9, TWO PERSON (MIXED) TEAMS. THREE HOLE CONTEST.  PRORATED HANDICAPS APPLIED AND HIGH SCORES ELIMINATED UNTIL EACH FLIGHT HAS A WINNER. THE TWO WINNERS THEN SHOOT – IT – OUT ON HOLE NUMBER 4 FROM A SPECIAL TEE ON THE FIRST FAIRWAY WITH THE GALLERY CHEERING THEM ON.
6:00PM COCKTAILS (BYOB)
6:30 Dinner
 MARINATED PORK TENDERLOIN
HOMEMADE POTATO SALAD
MIXED LETTUCE SALAD WITH STRAWBERRIES, BLUEBERRIES,
RASPBERRIES AND GOAT CHEESE WITH CITRUS VINAIGRETTE
CRUSTY BREAD AND BUTTER
APPLE CRISP
$32 + tax Dinner Price PER PERSON
$10 Tournament prize entry fee per person
Every player needs to sign up individually and indicate partner
We have reached capacity. The following form is a waitlist form in case of a cancellation.
Recent Comments
No comments to show.